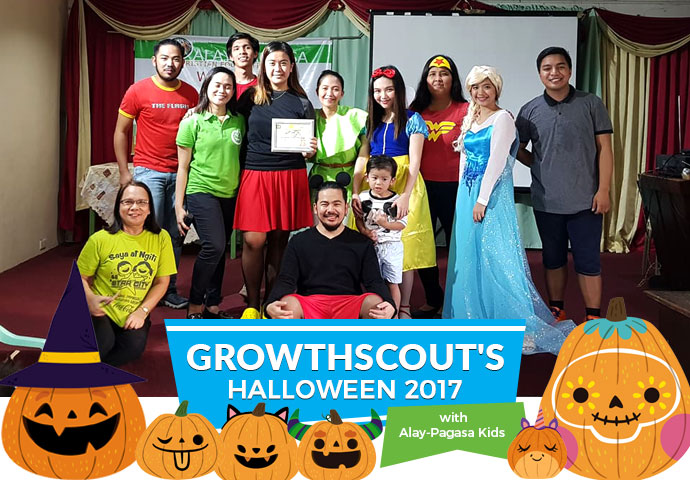 Fun, Meaningful and Priceless: GrowthScout SEO's ldea of a Halloween Celebration
It's the Halloween season! It is one of those times when even the busiest SEO experts and digital marketing specialists take a break to celebrate–just as we did last October 28!
As a part of its yearly tradition, GrowthScout SEO extended its hand to the community by celebrating Halloween with the kids of Alay Pag-Asa Christian Foundation, a community-based NGO that is committed in helping indigent children, the youth, and their families. With the help of the management, staff, teachers and parents, the event has been fun, fulfilling and successful.
Prior to the celebration, the team has bought gifts and foods as giveaways. A program was also organized to bring fun, entertainment and learning for the children of Alay Pag-Asa. To make the event more exciting for the kids–as well as for the GrowthScout team, everyone had to dress up in kid-friendly superhero costumes and famous characters.
Thankfully, everything was executed well from the introduction, program proper, storytelling, parlor games, distribution of foods, to gift-giving. The team was even surprised by the performance prepared by the staff and children of Alay Pag-Asa, not to mention the plaque of appreciation that was handed to our CEO.
The event was indeed a success. The kids and even the parents had fun seeing in real life the characters they only see in TV, special mention to Snow White (aka Peach Angeles) and Elsa (aka Joyce Marticio) who were the crowd favourites. It was no longer a surprise for the two to be voted as the best in costumes, with Elsa bagging the top prize!
Below are some of the pictures that will give you a glimpse of the Halloween celebration:
A Tradition of Giving at GrowthScout SEO
The event is one of the regular community-based activities done by the entire GrowthScout SEO team since (and even before) it was founded to reach out to the less privileged people, including the homeless, hard-working street vendors, and children from poor families.
Last year, GrowthScout SEO celebrated Halloween with the children in Kitanlad, a poor community that is within the vicinity of the company's place of business.